Want More Local Business?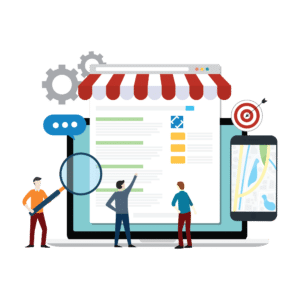 You Need Local SEO Services.
97% of consumers go online to look for local services, and 82% of smartphone users use a search engine when looking for a neighborhood or local business. In reality, 46% of all searches on Google are local. How can you connect with these consumers? With local SEO (search engine optimization) from one of the greatest local SEO companies in the nation.
People are not reading the newspapers or even looking in phone books like they used to. What they're reading is whatever they typed into the search bar on google. People use search engines like Google and Bing now more than ever before. This means your website requires local SEO to get discovered by local consumers looking online for the services you offer. Local SEO helps you get found on search engines and grow your business of yours in 4 main ways:
It raises your website's rankings in the search results and in Google's local pack
It has the highest conversion levels of all local advertising channels
It helps mobile users, people on cell phones, find your business, whether it is in the search engines, social media channels, or through directories.
It ensures your company is found on Google and Apple maps and other navigational apps.
Search engines, like Google, have realized that a lot of customers are searching for specific services and products near them. In fact, over half of Google search queries have localized intent. Just how does this affect your business? With better local search rankings your website is going to get more visitors, with increased conversion rates.
Local SEO (Search Engine Optimization) is the process of making your Business visible for searches that are geographically related. Particularly within Google 's Local Pack and map listings. It will help your business boost the local online visibility of its, outrank its local competition, increase organic visitors to the website of yours, and also get your business even more qualified leads within a certain service area.
You see local search engine optimization any time you look for something on google. Local search engine optimization comes into play when you search for a service, business, and numerous other things on google.
"Marketing company near me,"
"food near me,"
"Walmart near me."
With the appearance of the "near me" search era and geo-location from cell phones, local search engine optimization is becoming more and more important. Local SEO helps ensure that your business shows up in the best place, in front of the right people, at the proper time.
SEO is essential to local marketing, as website extensions, localized search phrases, along with community-driven content lead to an improved site and brand recognition for individuals in the area your business is located in. We employ our SEO expertise to develop a strategy that can provide your business with the means to bring your company to the top of your region and help you develop long-term success.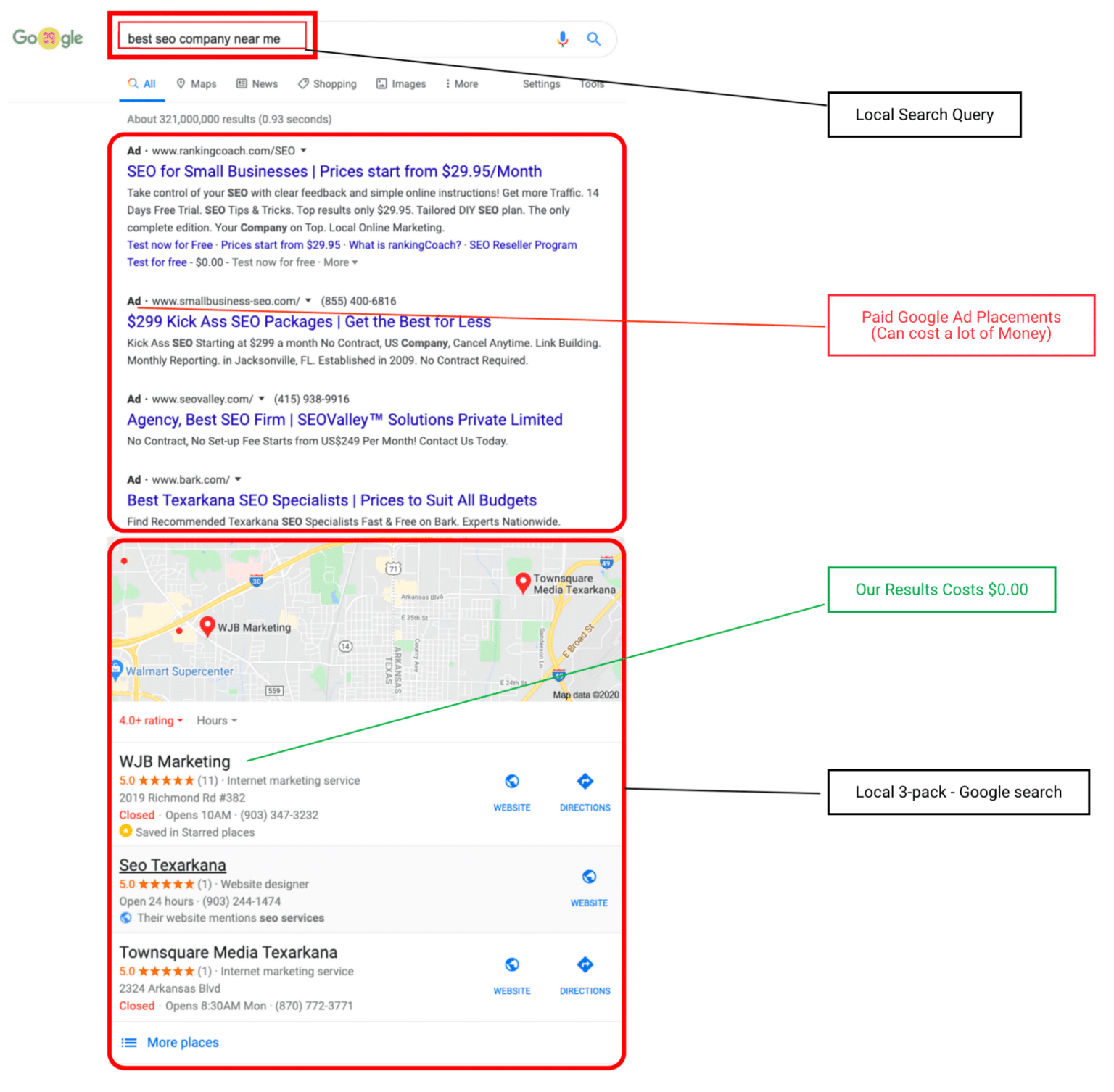 A successful local campaign is vital for just about any business looking to generate sales and leads from neighboring customers. It is today's modern day phone book! The calls you receive from newspaper ads and yellow pages are dwindling fast, local SEO can counter that and generate even more calls and leads from online contact forms from your website.
What Factors into a Local Search?
According to Moz's survey on Local Search Ranking Factors, these eight factor have the most influence on where you appear on Local searches on Google.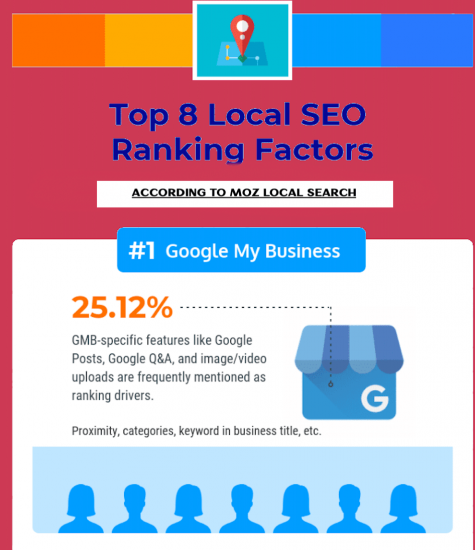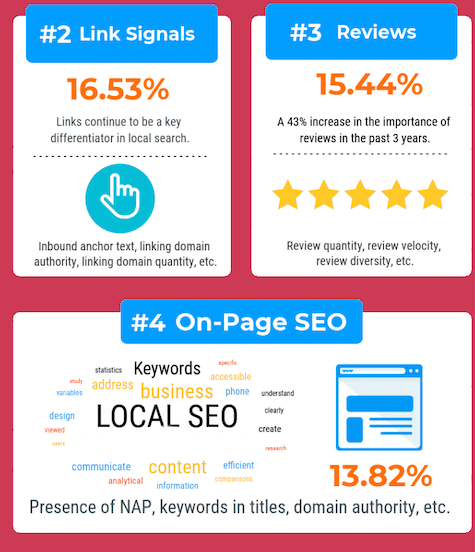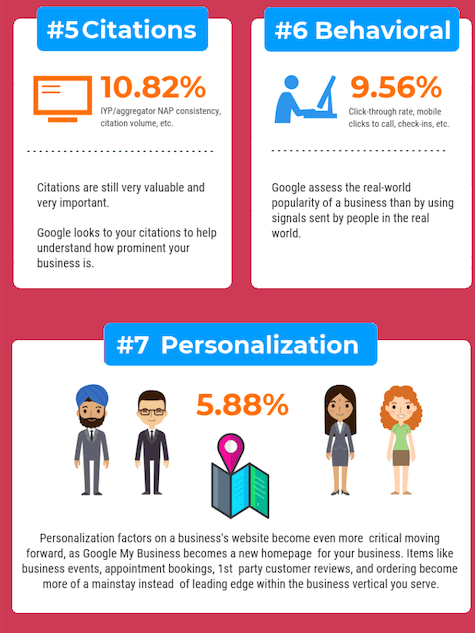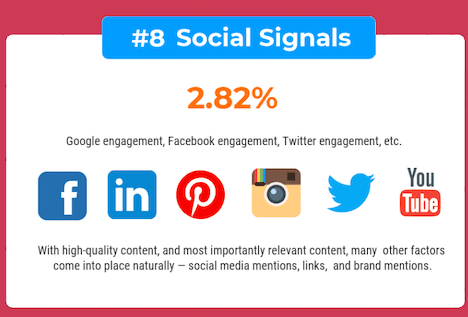 Google My business has a huge effect on where you appear on google local search. Claiming and verifying your business on Google is an important first step in any local SEO strategy.
Link signals provide search engines with an idea regarding just to how crucial your site is on the importance radar.
Reviews are just about the most important business and consumer tools provided by Google My Business reviews. Make sure to remind your customers and clients, old and new, to leave reviews on Google.
On-page SEO (also known as on-site SEO) is the process of optimizing web pages to improve a website 's online search engine rankings and to increase organic traffic.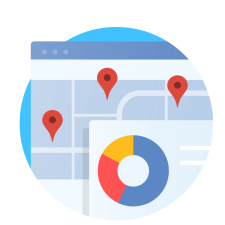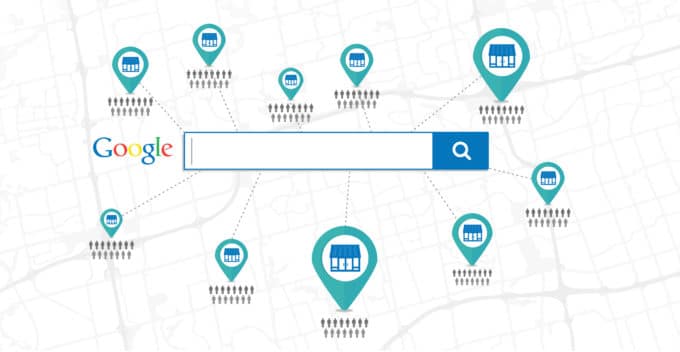 A key factor in improving your search results is local citations. Local citations are the mention of your business online that has any combination of your business name, contact email, phone number, website address (https://yourbusiness.com) and it's address, locality, and zip code.
Behavioral signals are based on how users behave on your website and makeup nearly 10% of local ranking factors.
Location personalization usually comes into play when your query implies the necessity for a specific service or place near them.
Social Signals refer to a webpage 's popularity on social media. Google determines social media popularity by a business's overall collective shares, likes, and social media.
How Local SEO Services Help Your Business Grow
It increases your website's online visibility for local consumers. 97% of people go online to find local services, and 95% of them won't go past the first page of the search results. Local search engine optimization works to increase your page rankings, thus improving your online visibility and helping you get your search ranking as high as possible so your business will appear on that first page of search results.





Local SEO increases the amount of web traffic, leads, and sales you can receive from local visitors. Getting website traffic and leads from people who don't even live in the area you service won't do anything to help build your business. With localized SEO, you increase traffic from consumers in your specific service areas, which means you'll get a higher sale to lead ratio's.




Local SEO allows you to provide a much more targeted, geographic campaign which helps increase conversion rates. With localized SEO, you are able to target campaigns to a really small, localized, and targeted group of individuals that are serious about your service or product.




It will help you stand out and get noticed more than your competitors. Fewer than 50% of companies currently use local SEO services. What that means for you is a big opportunity to get ahead and stand out to possible customers in directories, maps, local searches, and social media.
What goes into our local SEO packages
At WJB Marketing, we include many services to help your business's local search engine optimization campaign. These include:
Building And Monitoring Local Citations
Auditing both you and your competitor's local citations across all of the online directories that are relavent to your business
Editing your local citations to ensure they all include the right NAP citations. (name, address, phone number)
Making your business new citations
Finding more local citation opportunities
Monitoring and managing your local listings
Editing your citations to ensure they are all the same to make sure they don't confuse search engines.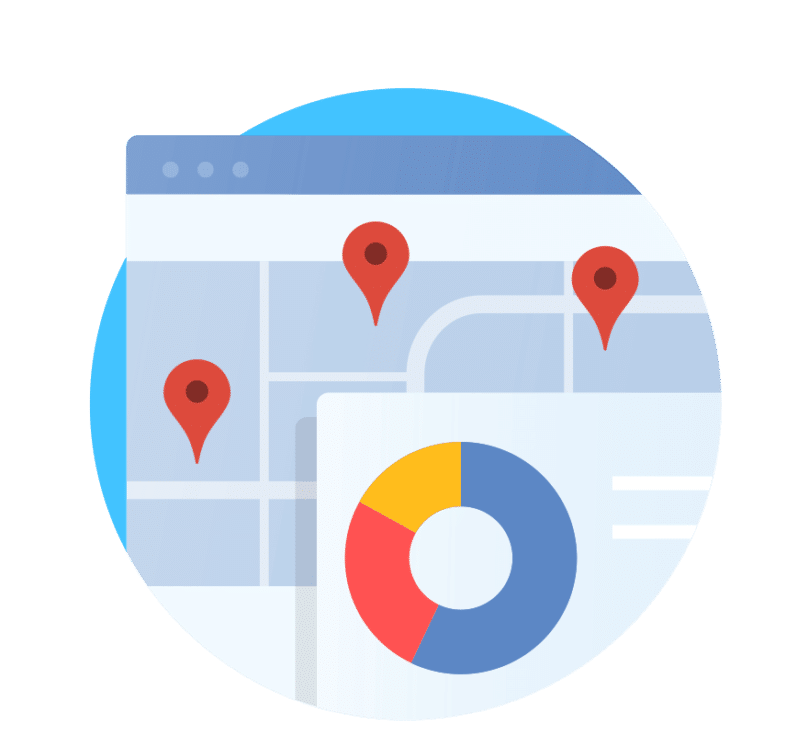 Publishing And Optimizing Localized Website Content
Performing continual keyword research to discover what and how your customers and or clients are searching for your services and all other related services.
Publishing custom made locally targeted website content that will increase your local search rankings and offer an enjoyable seamless user experience
Adding Shema markup and microdata to your website in order to make your local business listings more prominent n the search results pages.

Optimizing your website and landing all pages on a continual basis
A Complete Local Competitor Analysis
A complete market analysis of your service areas
Finding any local competitors currently outranking you online for the services you offer
Analyzing keywords, search terms, monthly search volumes, and your competitors (in your market)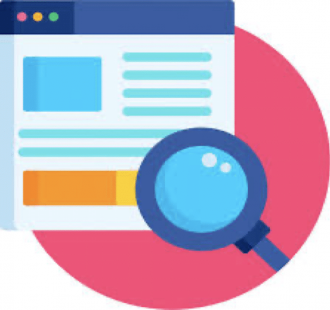 In Depth Analytics and Tracking Reports
Monitoring and installing advanced Google analytics tracking
Installing any custom analytics tracking features that you request.
Providing a comprehensive reports on how our services are affecting your business overall.
Optimizing And Managing Your Google My Business
Optimizing your company 's Google My Business page to ensure you appear on local packs.
Claiming your businesses Google Maps listing
Optimizing your companies backlinks on Google My Business
Optimizing the business information and services on your Google My Business Page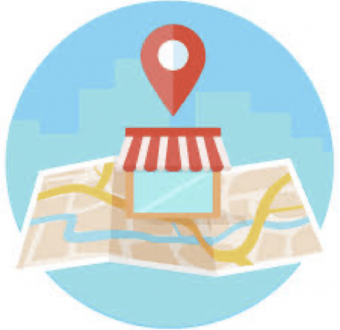 Monitoring your keyword rankings, organic traffic, emails, calls, leads, and conversion rates.
Monitoring the keywords rankings of your competitors
Monitoring your top-five local competitors
Monitoring your Website analytics
Monitoring and Tracking Phone Calls
What are you going to do for your businesses Local SEO?
If you are going to do your own business's local search optimization feel free to download our Do It Your Self Local SEO Guide which will walk you through all 8 factors step by step.
If you already have a company doing your companies local search optimization you can use our Do it Yourself Local SEO Guide to make sure you are getting the service your paying for.
If you don't already have a marketing company doing your local search optimization and you are interested in hiring a company we recommend checking several companies and then at that point if you would like us to do your local search engine optimization  just let us know and we will take care of everything for you.
Don't let Google find problems before you do.
Site audits are an essential tool that can help you evaluate how easily a search engine can discover, crawl, and index your website.
Use our free SEO Site Audit tool and find out everything there is to find about your website before the search engines do.